About Us
'East Coast Pilot' was first published in 2005. It is now in its 5th edition, and has become a best-selling pilot book for leisure boaters cruising the waters of England's East Coast between Ramsgate and Great Yarmouth.
It was originally dreamed up by yachting journalist Colin Jarman. Colin was brought up in Maldon, in Essex, and loved the boating life on the creeks and rivers of the East Coast of Essex and Suffolk. He wrote several maritime textbooks, and for quite a while worked for 'Yachting Monthly' under the editorship of the legendary Maurice Griffiths.
He was one of the founders of the magazine 'Sailing Today', and worked on it for many years as News Editor, also writing boat and gear reviews and the much-loved 'Riding Light' column on its last page. During his time there he had the idea for a new pilot book for the East Coast, one that would be straightforward to follow, and uncluttered with superfluous information not relevant to the task.
He sold the idea to marine publishers Imray Laurie Norie & Wilson, then decided he needed two other people to share the workload and get the book created more quickly. Garth Cooper and Dick Holness, both East Coast sailors, had part-time writing jobs on 'ST'; Colin invited them to team up with him, and it was all agreed over a pub lunch in Maldon early in 2004.
And so ECP was born. Colin co-wrote the first three editions, and helped production of the 4th before sadly he passed away.
The book goes on, written now by Garth and Dick. From the start it has been supported by its own website, managed by the authors, and remains probably the only major pilot book in the UK that has its own website, book updates and newsletter service.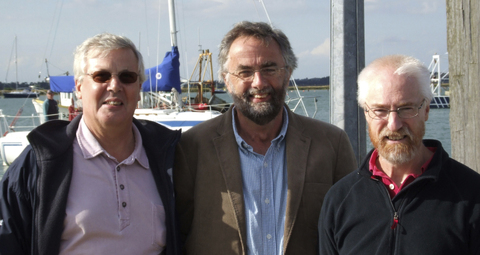 The joint authors of 'East Coast Pilot', pictured here at West Mersea - from left to right: Garth Cooper, Dick Holness, together with ECP's founder, the late Colin Jarman.
Our Backgrounds -
Garth Cooper: From learning to row on the Broads to sailing his current 33-footer, 'Morven', Garth has spent a lifetime sailing the East Coast and still finds new places to explore. After an apprenticeship at Whisstock's boatyard in Woodbridge, Garth joined the BBC as a broadcast journalist, then became a yachting journalist and was Editor of the magazine 'Anglia Afloat' for a time.
Dick Holness: Dick began sailing at Herne Bay SC at the age of 12 and was soon bitten by the dinghy racing bug which occupied him for the next 40 years. He turned to cruising late in life and now has a 36' shoal-draught Moody tucked away in a mud berth at Conyer. He started writing late in life, too, and was recruited by the late great John Goode at 'Sailing Today' before being headhunted on to the 'ECP' project. He adores quiet muddy creeks and swatchways, and enjoys finding short cuts. His proper job was in IT so he 'got lumbered', as he puts it, with the ECP website.
Colin Jarman: Colin passed away in November 2016, but part of his legacy is ECP which carries on into the future with new editions.