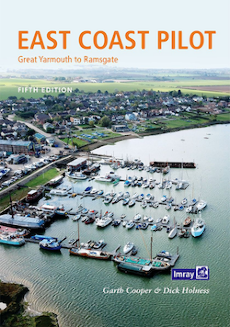 We don't sell ECP direct - you should find it in stock at most boat chandleries on the East Coast, or you can buy it from one of the larger chandleries who operate online, or indeed from general online operators like Amazon.
You can also buy it direct from the publishers, Imray, if you wish - Imray often have deals such as free postage to encourage buying direct.
Access Imray's website HERE >>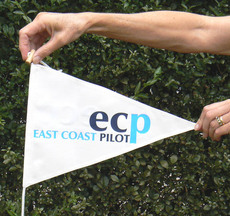 One of our readers, Neville Robinson, suggested that we should supply burgees that could be flown by owners of East Coast Pilot. His idea was that a burgee would attract like-minded folk and act as an introduction. More importantly, he said that if we did make them available, he would buy one!
With his help, we came up with a design, about 30cm long and 24cm high, made in white acrylic fabric with the lettering on both sides in vinyl. A wooden toggle is included but can easily be removed if you prefer. These flags are hand-made and of proven very tough construction.
The cost per flag is 13.50 UK pounds, including UK delivery, or 14.00 UKP delivered to mainland Europe. If you would like one, please contact the Webmaster >>